Dan Medica (North) Ltd Specialist Wheelchair Range
1. Dash for Life Bariatric Wheelchair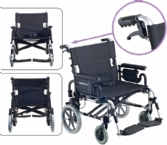 The Dash for Life Bariatric Wheelchair is a Folding Manual Wheelchair available for users up to 30 Stones in weight. The chair is available in seat widths 22 or 24ins. The weight load is made possible with the unique triple cross brace system giving the chair maximum support whilst enabling the chair to fold for transportation and storage.The Dash for Life Bariatric chair meets current requirements for Crash Testing ISO 7176/19 and is therefore suitable for Transportation in Public and Private Vehicles. The Dash for Life Bariatric Wheelchair is suitable for Private Users,Nursing Homes,Hospitals,and Clinics. The chair also comes with Attendant Brakes(Optional), Parking Brake,Folding Back,Puncture Proof Rear Wheels and Front Castors , Detachable and Height Adjustable Armrests, Padded Seat and Back Canvas ,and a Lap Belt also come as standard..Cost options include Elevating Legrests,Height Adjustable Anti Tips,Amputee Supports Attendant Brake , and aTension Adjustable Back. A big chair for small budgets!
Buy this Wheelchair direct Online Here!
2. Dash for Life Standard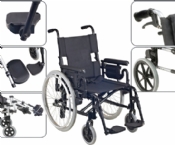 Part of the Dash for Life Range , the Dash for Life Standard is available in seat widths between 15 and 20 ins with a user weight of 21 stones 3lbs 135kg and comes with a folding back as standard, and padded seat and back for maximum comfort and support.The arms of the Dash for Life are height adjustable making easy adaptation for users with or without a cushion.The armrests are swing away making side transfer and hoisting an easier operation with just the flick of a lever.Full length armpads are standard with the shorter desk arm available as an option, making the chair ideal for getting closer to a table or desk.The footrests on the chair are swing in/out and the footplates are angle adjustable for correct plantar positioning. The footrest stem is also adjustable for length.The chair is fitted with a lap belt as standard.As an attendant chair it will be fitted with 315 /12.50ins wheels there is an option to have attendant brakes fitted with a parking brake as standard. The unique axle block means the chair can be fitted with 24ins,22ins or 315/12.50ins wheels. Castors which can be either 8ins standard or 6ins, are angle adjustable and puncture proof making this chair a versatile,robust chair suitable for everyday use in Hospitals,Clinics,Nursing Homes and for users where comfort and adjustment are a requirement. Successfully Crash Tested to ISO 7176/19.
Buy this Wheelchair direct Online Here!
3. Dash Stowaway

The Dash Stowaway has a unique folding system making it ideal for transportation.Fitting easily into the boot of a car it is the ideal wheelchair for holidays and shopping trips.Light and compact weighing just 12.3kg it is perfect for the occasional user. The chair folds in a similar fashion to many children's buggies,creating both space and no obstruction to a drivers rear view.The chair comes with Swing up armrests,Flip Up Footplates,Adjustable Length Brake Lever,Built In tipping Levers, Standard 17ins seat width and 17ins Seat Depth,Low maintenance Aluminium Frame,315 rear wheel (12.50ins),User Weight 112kg. The perfect travellers wheelchair.
Buy this Wheelchair direct Online Here!
4. Dash X

The latest addition to the Dash range The Dash X is one of the lightest wheelchairs in its class.Ultra Light the folding Dash X is ideal for holidays shopping or just visiting friends ideal for indoor/outdoor use the Dash X weighs just 9.6 kg. The chair has a low maintenance aluminium frame, Attendant brakes ,315 wheel and is available in 16,17 and 18ins seat widths.A lap belt is standard ,and the chair is available in an attractive Blue Frame. Flip up Footplates which are length adjustable make this a versatile, lightweight ,excellent value for money chair whether for private or Hospital use.
Buy this Wheelchair direct Online Here!
5. Dash Lite

Light in Weight but high in quality,The Dash Lite is the perfect chair for Hospitals,Clinics and Nursing Homes alike.If available it can also be included on an NHS voucher scheme,but users will also be impressed by the weight and value this chair represents. With a lifting weight of just 7.3kg this folding lightweight chair makes storage and transportation a breeze.Fitted with either 24ins or 12.50 ins wheels, the chair has swing away adjustable legrests,flip up armrests,folding back,QR Wheels on both 24/12.50ins models,which can be puncture proof or pneumatic on 24ins wheels as an option.A lap belt comes as standard as does the attendant brake on all 315 wheel models.The chair has been crash successfully crash tested to ISO 7176/19.A lightweight value for money wheelchair.
Buy this Wheelchair direct Online Here!
Bariatric and Tilt In Space Wheelchairs.